Storm
timeline

21th century

Place of origin
Alias

The Anomaly

Characteristics

Race

Human

Gender

Male

Skin color

white

Hair Color

Black

Eye Color

Brown

Professional Status

Occupation

Adventurer

Previous Occupation

Astronaut

Base of Operations

Pandarve

Personal Status

Status

Alive

Relative(s)

Unnamed Parents (deceased), Digital Copy (deceased)

Debuts

First appearance
Image Gallery
Storm
Born in the late 20th century the man who would go further in life be the name Storm grew up with an interest of physics, mathematics and the 20th century. Before he was recruited for a space program he was already turning into a world phenomenon. His assignment to explore the planet Jupiter had become world news and quite a few members of the United Interplanetary Nations where there to see him of.
What was to be a simple reconnaissance mission near the Red Spot of the planet of Jupiter turned into a disaster his spaceship couldn't escape from it's gravity pull and was sucked into. When the Astronaut came to he found that the Red Spot and the nearest space station where gone. Storm concluded that the world thought he was gone and decided to return back to Earth on his own. Not knowing just yet that he travelled millions of years in the future.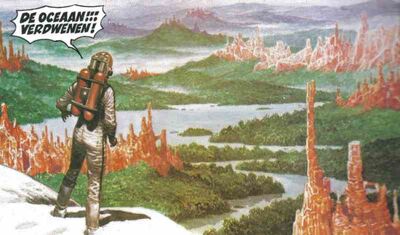 Storm was surprised when there was no breathable atmosphere at
Cape Kennedy
's location. Donning an environmental suite he found Florida as a frozen waste but his real shock was yet to come. The ocean was gone.
Replaced by a dry green world.
The Deep World
Edit
Where once was a vast ocean was now
Personality
Edit
Power and Abilities
Edit
Equipment
Edit
Another name that was suggested by Philip Dunn as the name for the hero Storm was "Dacker". But the name Storm stood higher on the list. A surname for Storm, "Jameson", was also suggested. The name Grek was only used in the script Vince Wernham sent to Don Lawrence
In the 21th century Storm was a rodeo champion for two years in a row
In "The Armageddon Traveller" Storm mentions he remembers seeing the newspapers as a child when Andrew Wiles solved Fermat's last theorem in 1997. This is an error, as this happened in 1994. Still, we can conclude that Storm must have been born in the late 1970s or early 1980s.
Also in "The Armageddon Traveller" it is revealed that Storm's parents are Don Lawrence and his wife Elisabeth. This would make Storm an Englishman from the village Jevington.
"That's not very practical for a journey through the desert." - The question whether clothes are practical or not has become a kind of running gag in "The Chronicles of Pandarve".
References
Edit