Welcome to the Storm Wiki!

This Wiki goes more deeper into the Storm comic series originally (and for most albums) drawn by Don Lawrence and written by Martin Lodewijk

The actual series can be split in two parts: The Chronicles of the Deep World, which takes place on post-apocalyptical Earth, and The Chronicles of Pandarve, taking place in the Pandarve multi-verse.
|}
Featured Article
Template:Featured Article
Recent Comic Issue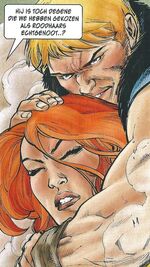 Pages Posted in Eppo 2014 #2

Nearing her coming of age at her 19th Birthday Ember and her Foster father Kiley don't see eye to eye as the young woman doesn't want to except the role the Krill society has labelled her as a woman. She has to battle her husband to be Vitka to proof she is as strong as any man.
Related Sites
Official Sites

Get the My Wikia App!
With Wikia's official flagship app, My Wikia, you can search for communities and add them to your home screen and read constantly evolving, deep content in a customizable format.
DOWNLOAD NOW FOR FREE!

http://stripspeciaalzaak.be/Toppers/ReeksTop50/ReeksTop50-17.pdf In a poll for best comic series, "Storm" was chosen as 17th best series.
Ad blocker interference detected!
Wikia is a free-to-use site that makes money from advertising. We have a modified experience for viewers using ad blockers

Wikia is not accessible if you've made further modifications. Remove the custom ad blocker rule(s) and the page will load as expected.