"I'm sorry, Torn! The common interest takes priority "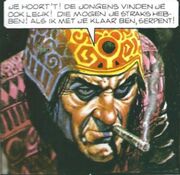 Corrupt Guard Leader

Time line: The Chronicles of the Deep World
Place of Origin: A unknown place in the Deep World (Earth)
Base of Operation: A Big Coral Reef at the Salt Desert
Race: Human
Status: Death
First Appearance: The People of the Desert (Het Volk van de Woestijn) (1979)
.
Powers and Abilities
Edit
Ad blocker interference detected!
Wikia is a free-to-use site that makes money from advertising. We have a modified experience for viewers using ad blockers

Wikia is not accessible if you've made further modifications. Remove the custom ad blocker rule(s) and the page will load as expected.